New concept: Sam's Pizza Land opens after renovation with an innovative team member - the KettyBot
The popular restaurant in Emmen has undergone a complete renovation. Now it has opened with a new concept and an innovative team member: the service– and advertising robots KittyBot.
The newly designed restaurant SAM'S Pizza Land Emmenbrücke offers a modern and welcoming ambience that immediately captivates guests. With new colors, furniture and lighting, Sam's Pizza Land creates a unique atmosphere. Perfect for a relaxed dinner before or after a visit to the cinema.
But that's not all - the service team at Sam's Pizza Land has a new helper in the Service robot KettyBot found. This robot is equipped with the latest technology. He can navigate independently and recognize obstacles. With its help, the service team members can concentrate on the essentials - providing the guests with a fantastic experience.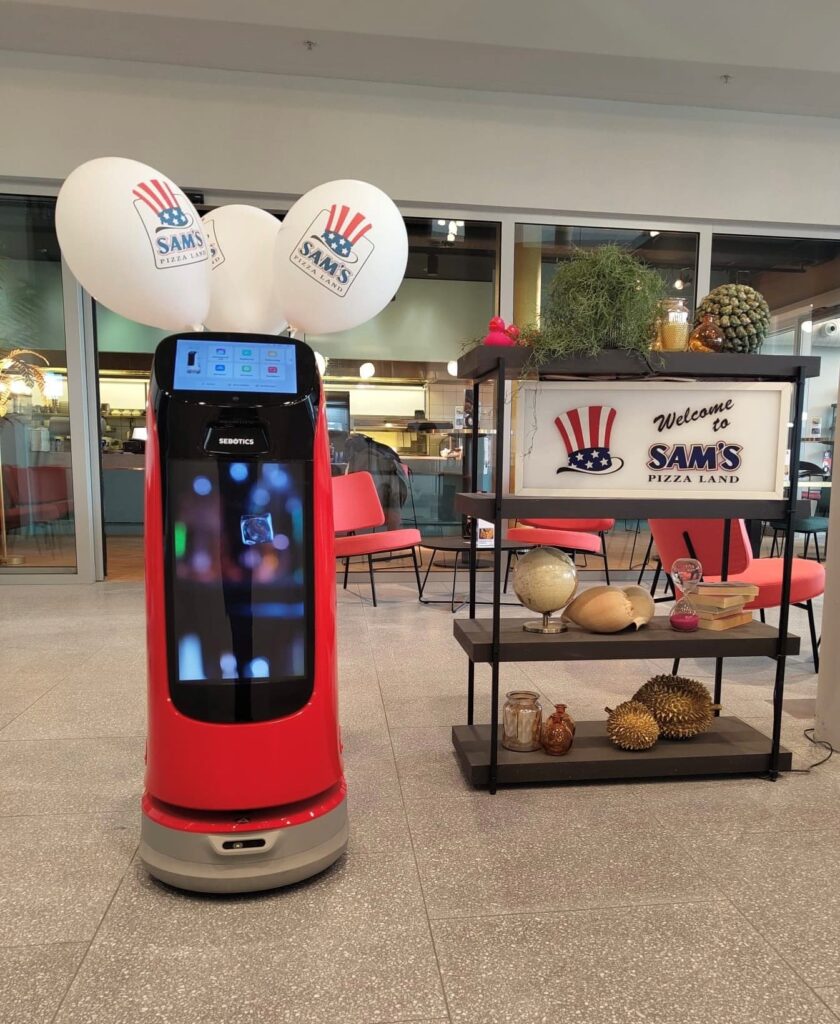 "We are very proud to be able to present our new concept," says Wolfgang Mock, the owner of Sam's Pizza Land. "Our goal was to offer our guests an exceptional experience. We think we've achieved that with the new design and our service robot, KettyBot. We are ready to receive our guests and give them an unforgettable time."
The service and advertising robot KettyBot with a built-in screen will amaze the guests of Sam's Pizza Land with its impressive skills. Not only can it help with serving and clearing away cutlery and crockery, it can also transport empty plates and glasses back to the kitchen. He moves through the restaurant with ease and elegance, thus ensuring a pleasant and relaxed atmosphere. With its integrated advertising screen, it is not only a help for the service team, but also a marketing tool that can be used if necessary. For example, it is used for: campaigns, hits of the day, happy hour or birthday wishes.
Visitors to Sam's Pizza Land can now see the KettyBot in action and see for themselves how it supports the service team and provides an even better experience for the guests. Sam's Pizza Land believes the KettyBot service and advertising robot will help improve service and enhance the guest experience.
do you like what you read Then show it to your friends.