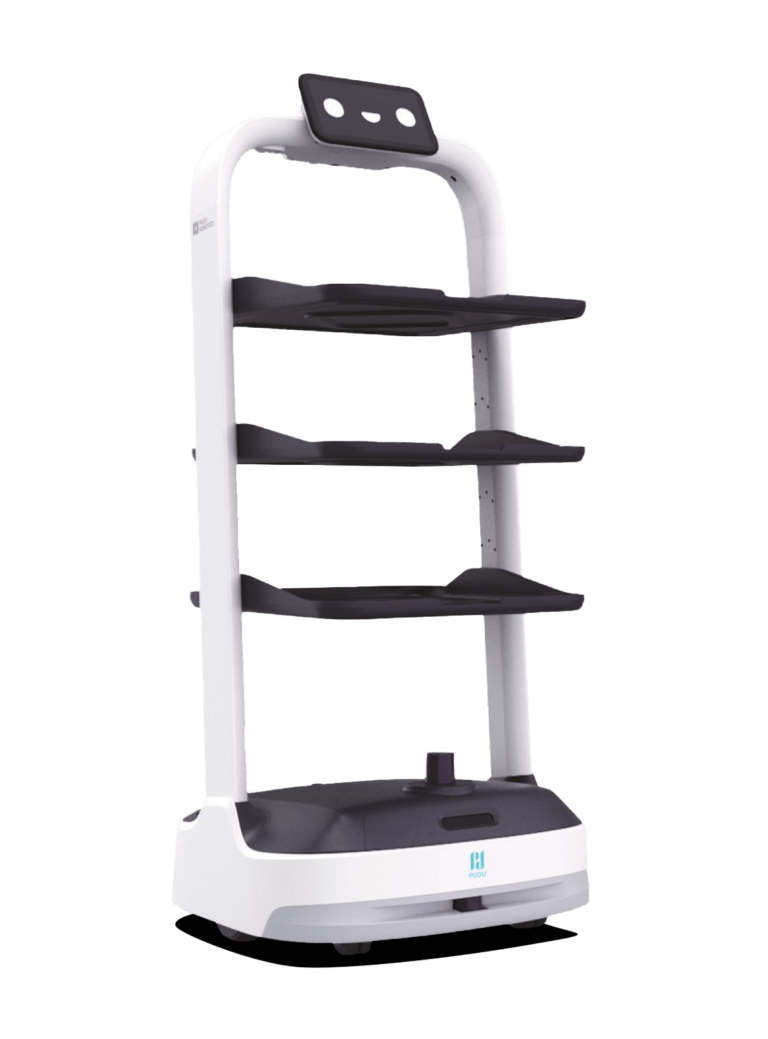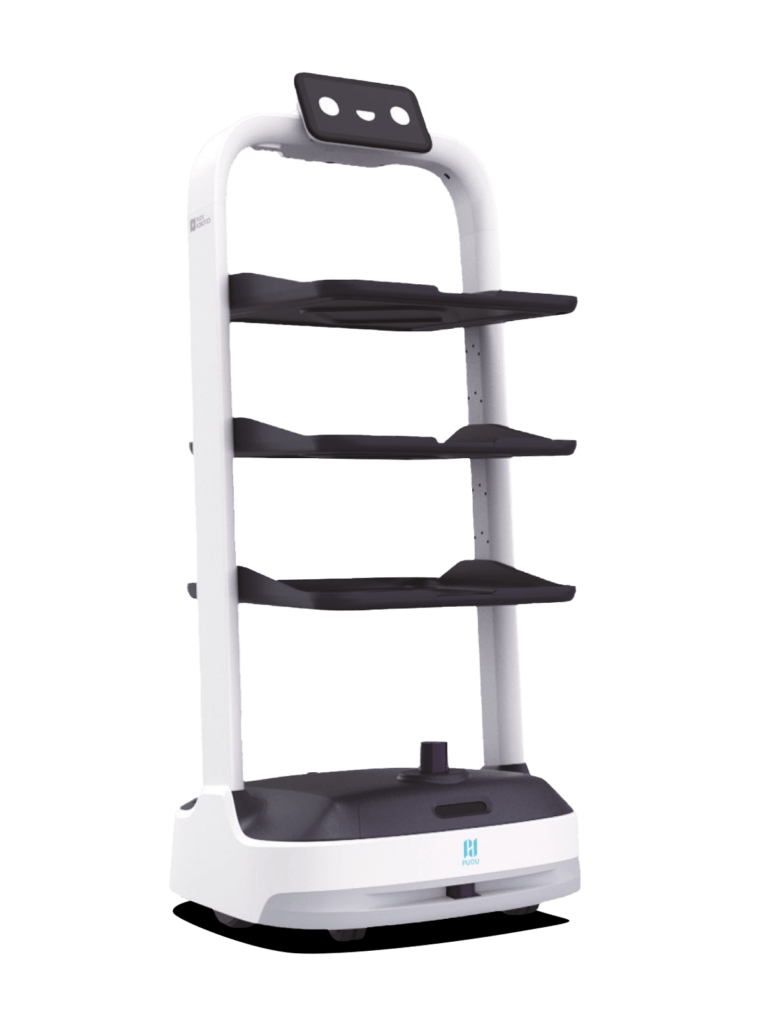 The robot waiter PuduBot 2 delivers food, drinks and dishes from the kitchen to guests. It supports your staff with heavy tasks 24 hours a day and gives each waiter more time for good guest service.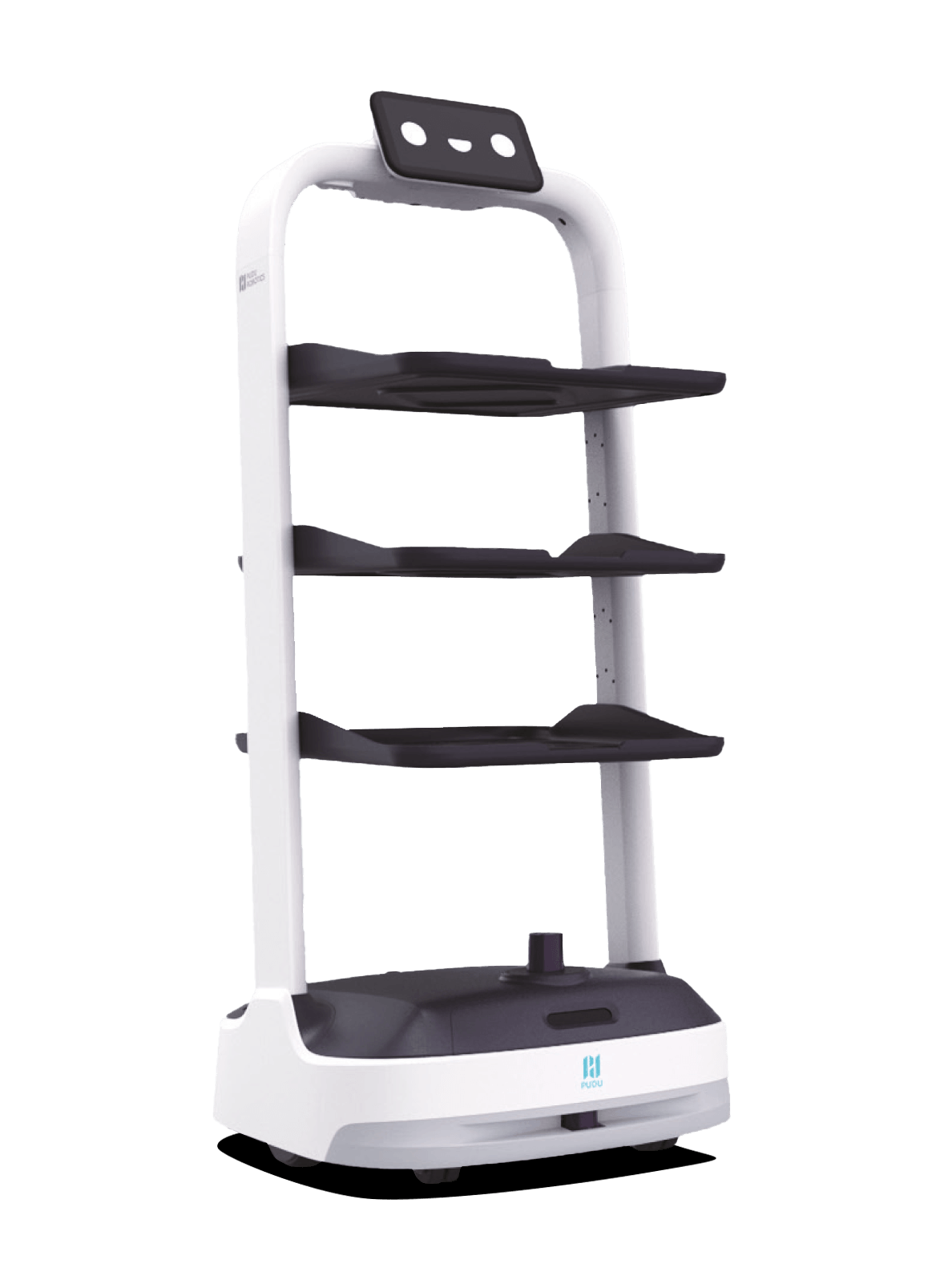 The new service robot PuduBot 2 creates more time for your staff, operates quickly between kitchen and guest, works longer shifts than your employees, is stronger than your strongest man and delivers dishes without errors.
This is how the delivery robot PuduBot 2 can support you.
This is what sets the PuduBot 2 apart
Professional serving, moving and placing. Also via voice control.
Industry-first dual SLAM technology
Optical laser SLAM control for all areas of application.
Centimeter-accurate location in real time. High precision mapping. Improved route planning and direct response to avoid obstacles in a split second.
Superior mobility - stable operation
A self-adjusting suspension ensures smooth and stable operation.
Industry first: energy exchange technology
Thanks to the quick-change battery, the robots can also be used safely in 24-hour operation.
Intelligent cloud services provide data for individual use.
Updates are imported via the network.
How does the cooperation with Sebotics work?
Step 1: First conversation about your needs
The free service call is about giving us an insight into the situation and conditions in the restaurant.
Marco from Sale is available for all your questions about the serving robot PuduBot 2. Regardless of whether you want general information about our gastro robot or have very specific questions related to your restaurant, our consultant knows the product. If you have already decided, the further procedure will be clarified immediately. Of course we also give you time to think about it.
Step 2: What happens between conversation and delivery
Once you have decided on the PuduBot 2, we only need a little information from you. For example scan we already put in your plan from the restaurant for you.
We also take care of all the official stuff like delivery and warranty. Then all that is missing is your appointment for the joint introduction of the PuduBot 2.
Step 3: On-site introduction
The delivery robot PuduBot 2 is operated via a touchpad and is possible for anyone who can use a mobile phone. However, it is possible to get more out of the PuduBot 2 with more technical knowledge, such as saving a new table plan or virtually dividing the restaurant into several areas.
The goal of this introduction is that at the end of the day all functions of the gastro robot PuduBot 2 are known and you can work independently with the service robot.
support phase
Sebotics wants to make sure everything runs smoothly after the PuduBot 2 is handed over.
It is important to emphasize that no hidden costs for updates or the like. If you have any questions or problems, you can contact us at any time. In the case of small damage to plastic parts, you can report them via Sebotics so that spare parts for the PuduBot 2 can be delivered as quickly as possible.
How much does a PuduBot 2 cost
The price of the PuduBot 2 depends on the size of the restaurant and the country in which it is located. In contrast to other providers, we at Sebotics offer intensive advice and set-up of the serving robot. We believe that the PuduBot 2 can only be used optimally and its added value fully realized after it has been professionally set up by us.
There are no hidden additional costs with us, all customs costs are already covered. We are transparent about costs and offer our clients a fair price for our services.
If you are interested in a PuduBot2, please feel free to contact us and we will make you an individual offer.
Bellabot Price Calculator
[gravityform id="4" title="true" ajax="true"]
This is how the PuduBot 2 avoids every obstacle
The PuduBot 2 combines different sensors to find its way in any room. Its greatest strength is the early detection of obstacles. The PuduBot 2 recognizes movements at an early stage and thus avoids collisions.
The primary goal of the PuduBot 2 is always the safety of service staff and guests. By using two different SLAM systems in combination with cameras, the PuduBot 2 always has an overview.
The SLAM system is a technology in which the environment is scanned and digitally perceived as a kind of map. This type of location is used, for example, in self-driving cars. Don't worry, as we introduce the PuduBot 2 together, we'll set up all the important features and show you how to set up the PuduBot 2 for its environment.
laser slam
With a kind of laser scanner, the PuduBot 2 has an overview of its entire surroundings. When setting up the catering robot, we create an initial scan. If you wish, we can also introduce you to the system of the service robot so that you can handle it independently in the future.
Optical SLAM
As an additional safeguard, the PuduBot 2 has optical tracking. With this he can perceive clues on the ceiling in the restaurant. During delivery, we will advise you on which points make sense in your restaurant. We then attach small markings for the robot to these.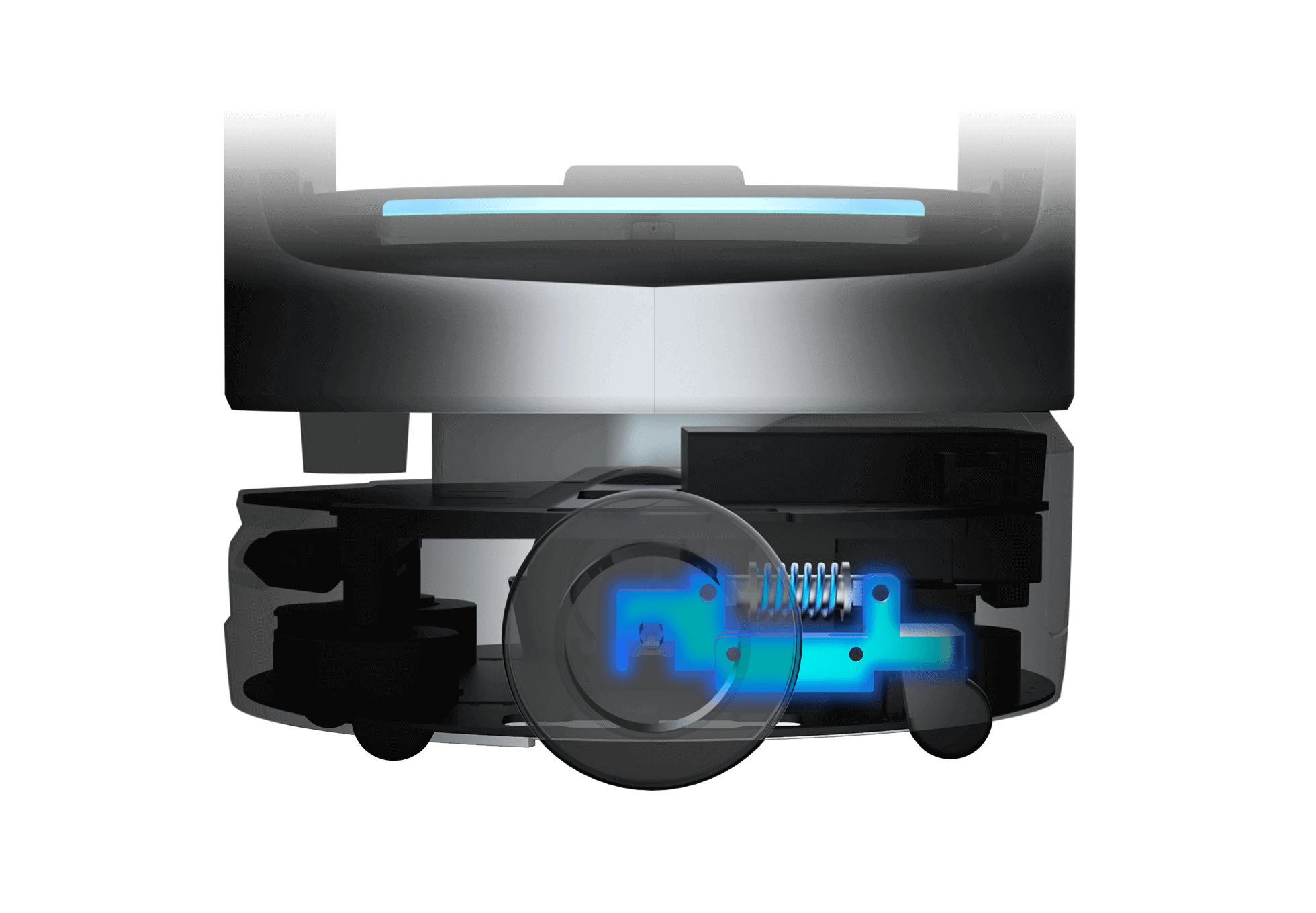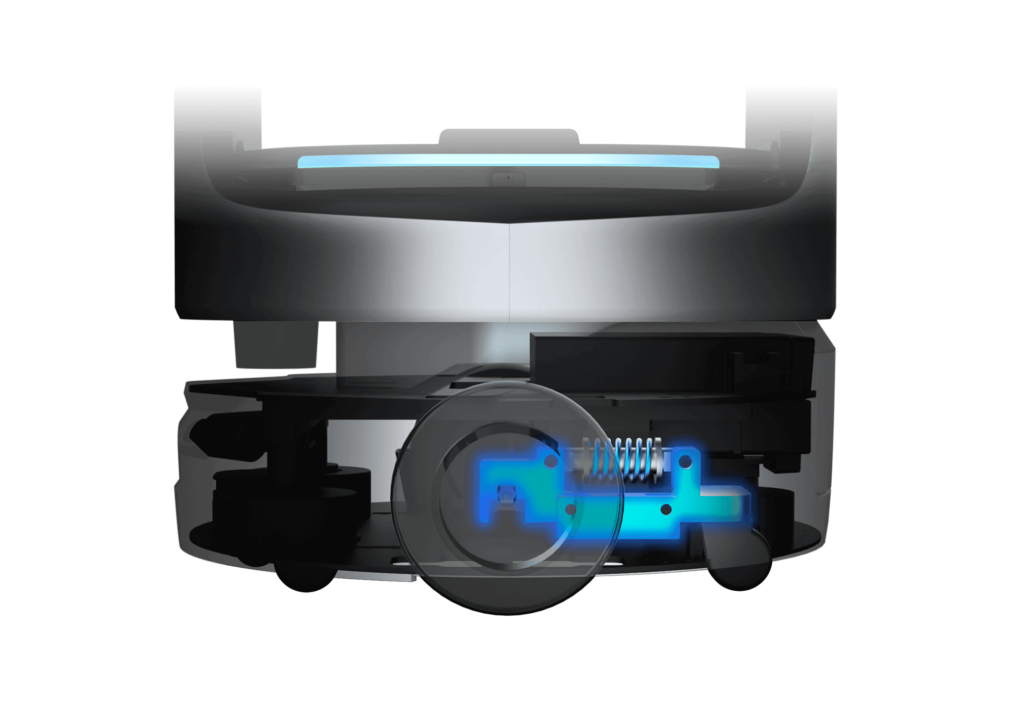 Automotive grade independent linkage suspension
The PuduBot 2's linkage suspension is self-adaptive and manufactured to automotive quality. The damping can be adjusted depending on the ground conditions and drive in order to keep the resonance frequency at an optimal level.
75% reduction in deployment without ceiling re-decoration.
Convenient operation in high ceiling environments.
Excellent performance and energy saving
33% increase in load capacity
Increase in energy efficiency by 16%
Industry-leading chassis system
Adaptation to different surfaces
Up to 30% more mobile stability
We will design you a personalized PuduBot 2 with your own branding. From a simple logo to full foiling, anything is possible. Check out our branding overview.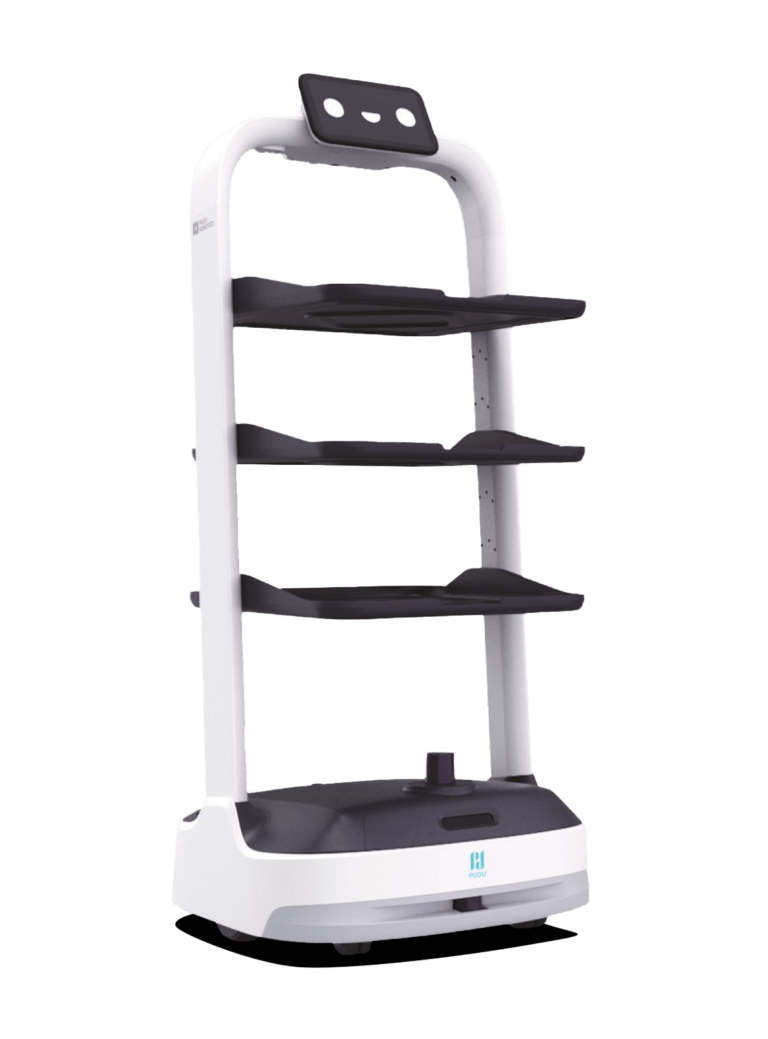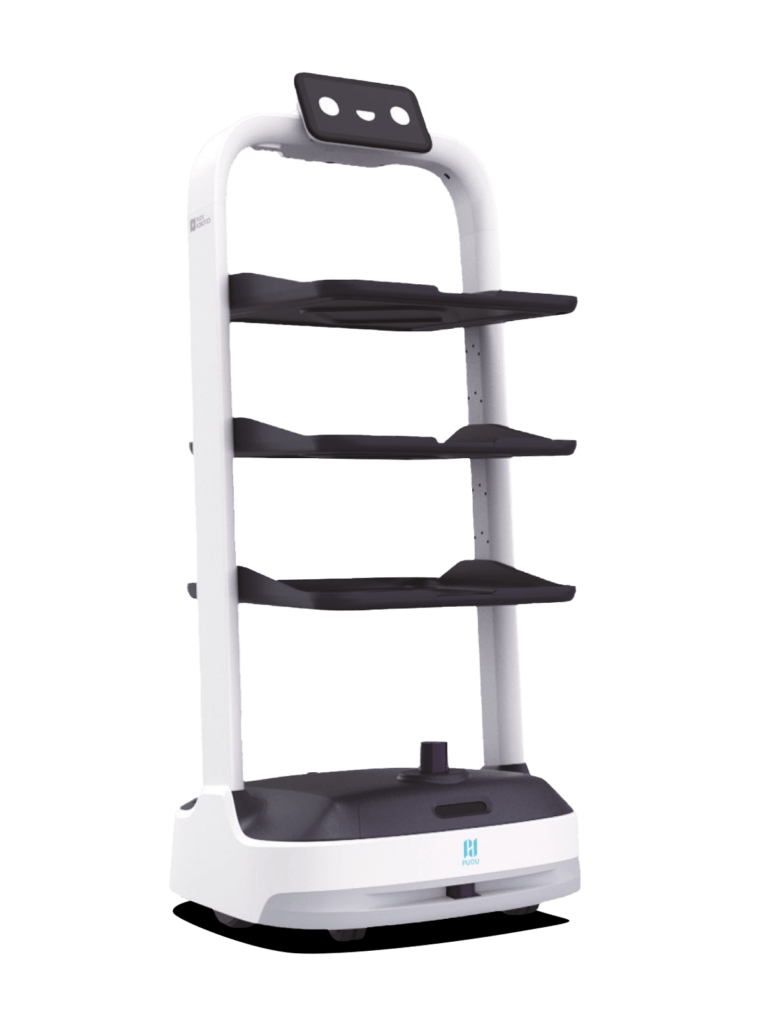 high performance
LFP battery
3 hours charging time for a full working day
6 times longer battery life
high performance
LFP battery
3 hours charging time for a full working day
6 times longer battery life
A robot serves multiple purposes
Serve multiple tables at once
Excellent IoT compatibility
Different shapes, versatile accessories
Support Type-C/4G/LoRa/Wi-Fi connection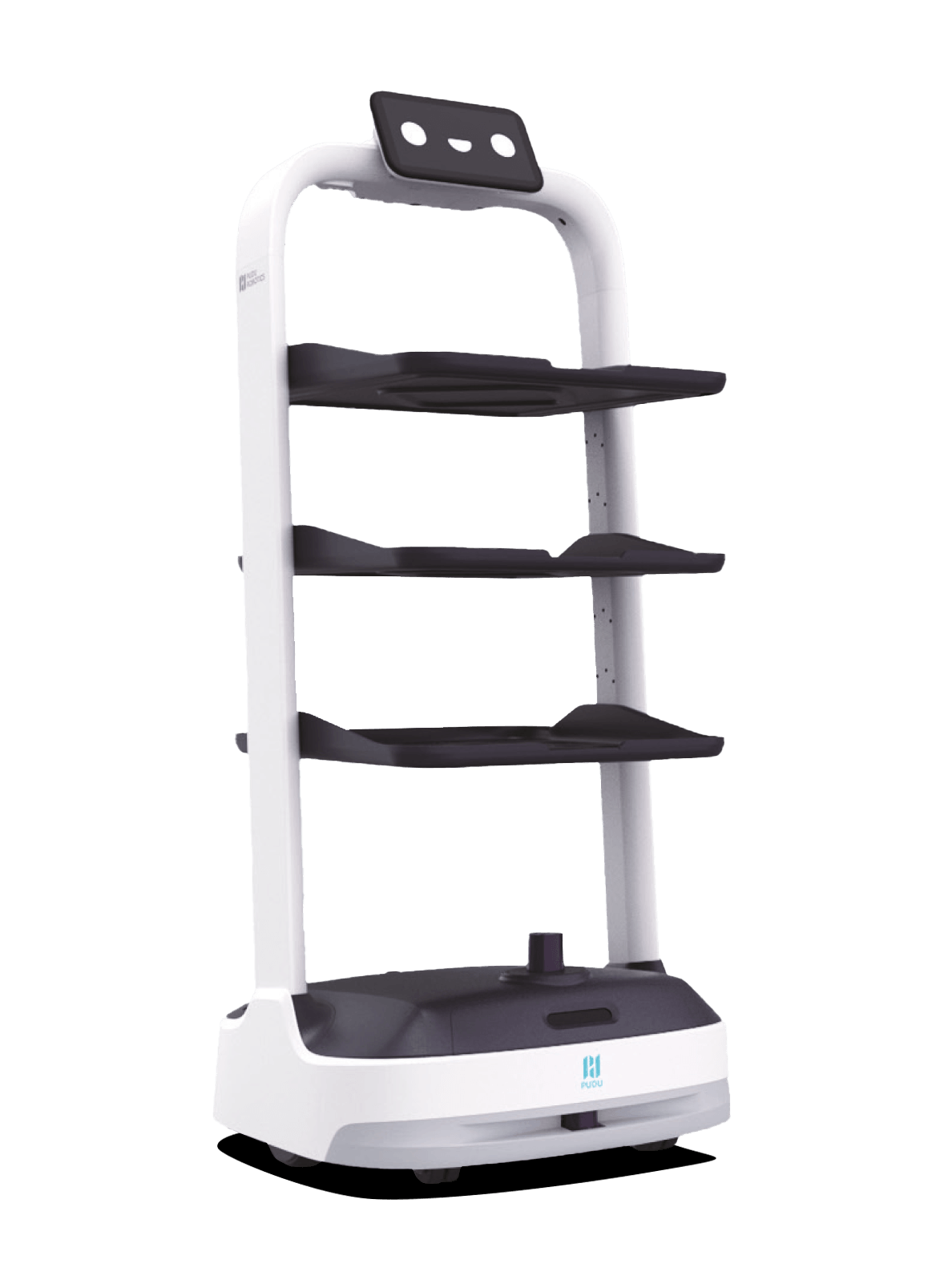 Loading capacity
10 kg/shelf
Battery life
12h
24 hours thanks to replaceable battery (available from us)
weight of the robot
37 kg.
dimensions of the machine
58 cm wide, 53,5cm long 129cm high
Speed
0,5 -1,2 m/s, individually adjustable
With the free service robot configurator you can find out which robot is right for your company and receive a free offer for your individual requirements!
The PuduBot 2 is a versatile service robot with a cat-like appearance, suitable for serving guests in hotels, restaurants, bars and events. He can offer drinks and finger food or show the way to a reserved table.
The PuduBot 2 can transport many plates and glasses at once and can also return to the scullery with empty plates and glasses. This saves wait staff valuable time and allows them to focus on more important tasks such as advising and serving guests instead of dealing with moving plates. This relieves the service staff and can increase motivation in the company.
The PuduBot 2 has many different uses, even for birthdays.
In birthday mode, he flashes all sorts of colors and sings songs, making young and old smile.