Less stress for your employees
Thanks to the service robots from Sebotics
What industry are you in?
Service robots in everyday life
Our service robots have a wide variety of skills and functions. In our video we give you an insight into how these skills can be optimally used.
With the free service robot configurator you can find out which robot is right for your company and receive a free offer for your individual requirements!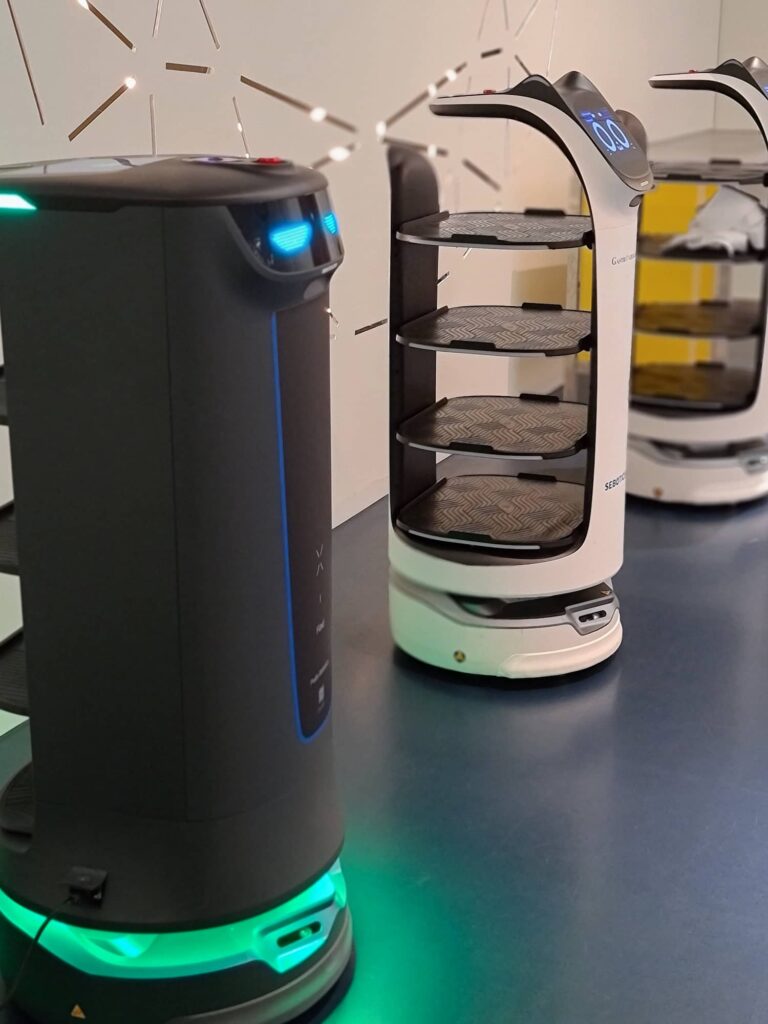 Gastronomy service robots are autonomous robots that are used in gastronomy. They take on simpler tasks such as ordering drinks or bringing food to the tables. However, service robots can also take on more complex tasks such as preparing food.
By using these robots, the workload of employees can be reduced. They can also help to increase efficiency in the catering industry and reduce costs.
Service robots the advantages
The following advantages can be achieved by using gastronomy service robots:
The workload of the employees is reduced. The efficiency in gastronomy is increased and costs are reduced. In addition, they tend to be small maneuverable and autonomous, which means they take up little space and are easy to handle.
Service robots the disadvantages
As the service robots are a new technology, they are usually expensive to purchase and require regular maintenance.
Service robot conclusion:
Gastronomy service robots offer both advantages and disadvantages. Still, it is important to carefully weigh the pros and cons before deciding to use these robots.
Sign up for the newsletter now!
Your benefits:
1. Get exclusive insights.
2. Find out about updates early.
3. Benefit from tips and tricks for the Bellabot.
Maintaining a service robot
Your service robot will last the longest if you take care of it every day

Create a few small todos for your team on the daily work list. When the day is over for the service robot, it is best to clean it with normal washing-up liquid and disinfect everything at the end. So everything stays sparkling new, individual parts don't fade and the sensors don't go "blind".
Please note that the storage mats on which the drinks and food are placed should only be washed by hand and should not be washed in a food processor or kitchen washing line. Otherwise, the storage mats may become deformed and it may no longer be possible to use them to serve drinks and food to your guests.
3 tips for the successful use of a service robot
Service robots are becoming more and more popular in gastronomy. These little helpers mainly take on simple tasks that would otherwise have to be done by human employees, such as carrying heavy plates. They are reliable, create more freedom for service and can also do funny tricks. But how do you go about it?
We give you 3 tips with which you can successfully use service robots in your gastronomy:
1. When introducing a service robot, don't just think about the price, but also about the equipment. Robots should not only be powerful, but also robust and durable. Sebotics works with industry leader Pudu Robotics. Also, make sure that the robot is properly configured and that you do proper training with us before using it.
2. Inform your guests about the use of the service robot. Especially in the beginning, your guests will be curious and want to ask questions. Be open to feedback and take the opportunity to show your guests the added value the service robot offers.
3. Integrate the service robot into your existing team and ensure that it is well integrated. In no case should it be a substitute for a human employee. Use it as a support for your team and ensure that all employees are satisfied with the use of the robot.
How will service robots support us in the future?
If we look at the world of robotics, we find that the technology has developed rapidly in recent years. It is therefore not surprising that the demand for service robots is also increasing. In the future, service robots will primarily be used to support us humans in our daily lives. For example, they can help us with housework, support us in caring for the elderly or sick, or simply keep us company. Service robots are also being used more and more in industry to optimize work processes and increase productivity.
Will people lose their jobs because of service robots?
In the future, people will be relieved and supported with the help of service robots. These robots can be used in the household, gastronomy, care and health sectors. Thus, people will not lose their jobs because of service robots, but on the contrary, with the help of robots they will be able to do their jobs better.
Most experts are of the opinion that the advantages of service robots will far outweigh them in the future. On the one hand, service robots can take over human work in dangerous or strenuous environments and, on the other hand, they can also take on monotonous tasks, giving people more time for creative and interesting activities. So in the future there will be service robots in many areas that support people and make their work easier.
Service robots in gastronomy
Service robots are already being used successfully in gastronomy and can relieve employees. These serving robots take on tasks such as bringing food to the table. In the future it will be possible for these robots to also take orders and for guests to be able to pay the service robots.

This is an interesting development, as in recent years more and more service robots have been used to support people in their work. In Switzerland, Austria and Germany, several hundred of these robots have already been used to support people in gastronomy. The robots could make people's work easier and give them more time for other tasks.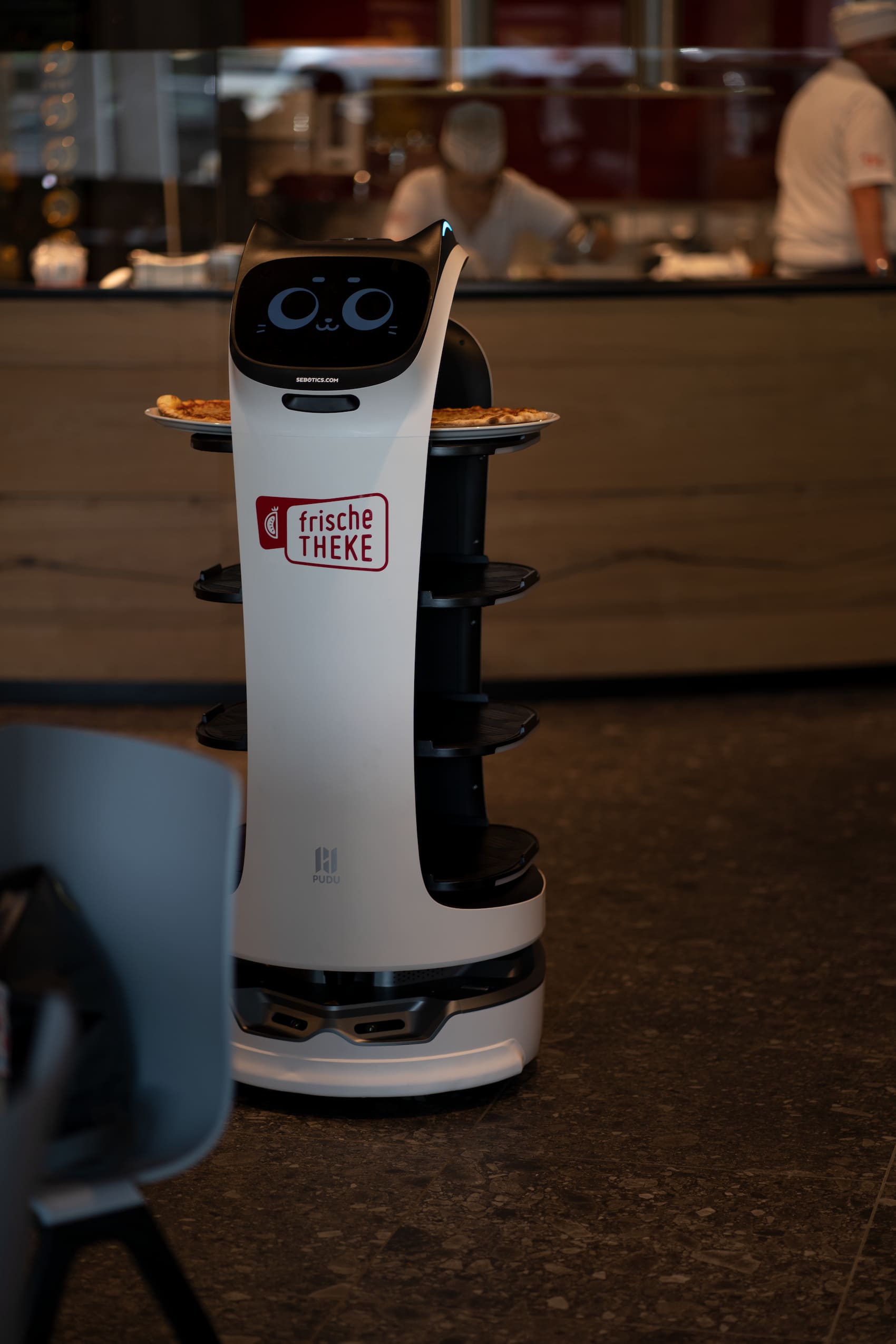 The use of service robots in the hotel industry
The hotel industry is characterized by cost pressure, price competition and constantly increasing demands from guests. In order to survive in this environment, hotels are looking for innovative solutions to strengthen their own competitiveness and offer their guests an even better experience.

One possibility for this is the use of service robots. By using robots in the hotel industry, hotels can optimize various areas of their operations and automate processes. For example, robotic butlers can support guests on arrival and departure or keep the rooms tidy. Robots can also be used in restaurants and lounges to serve drinks and food or provide background music.
Service robots are therefore more than just a marketing gimmick and have the potential to change the hotel industry in the long term.
Service robots at events and occasions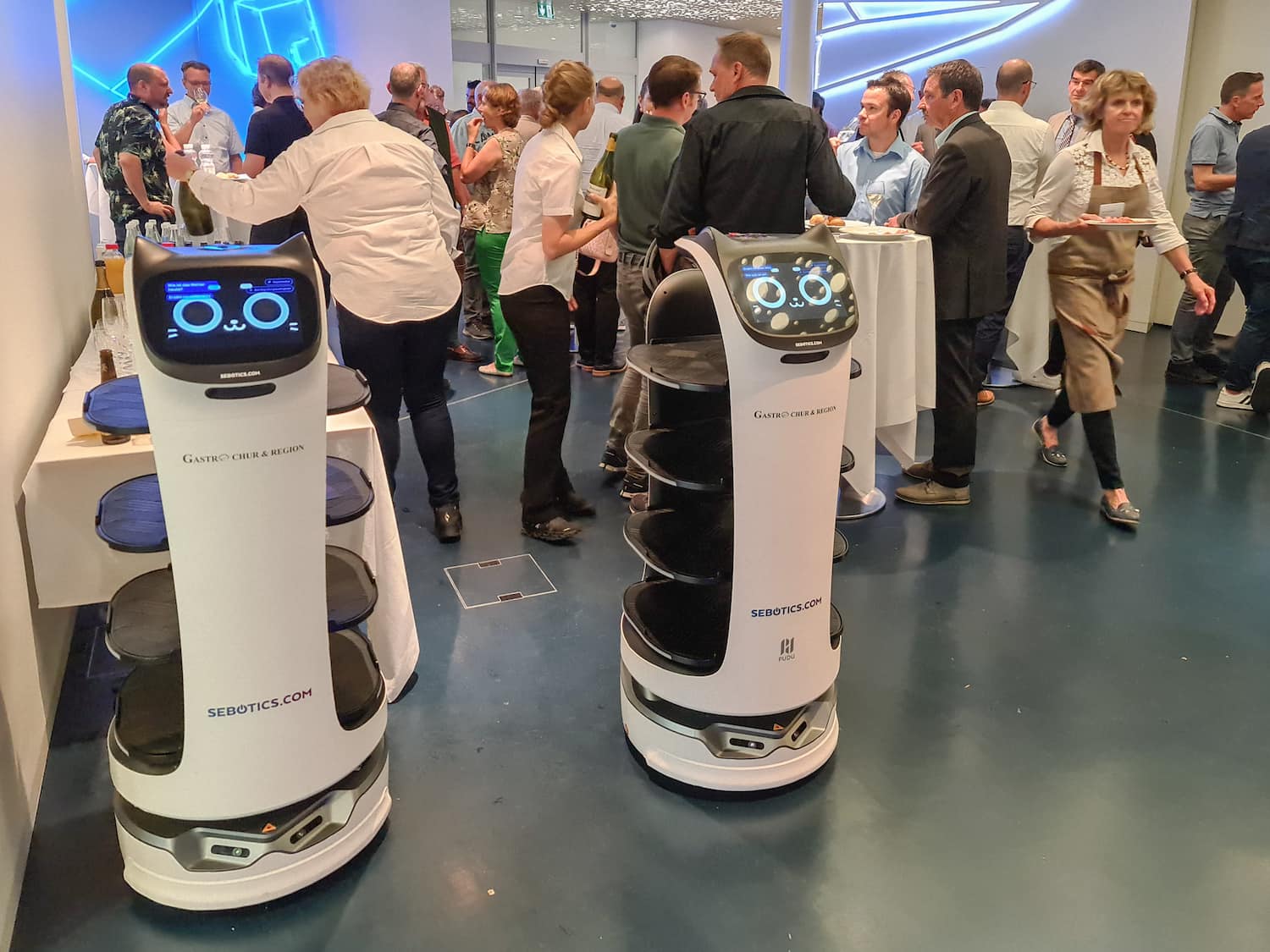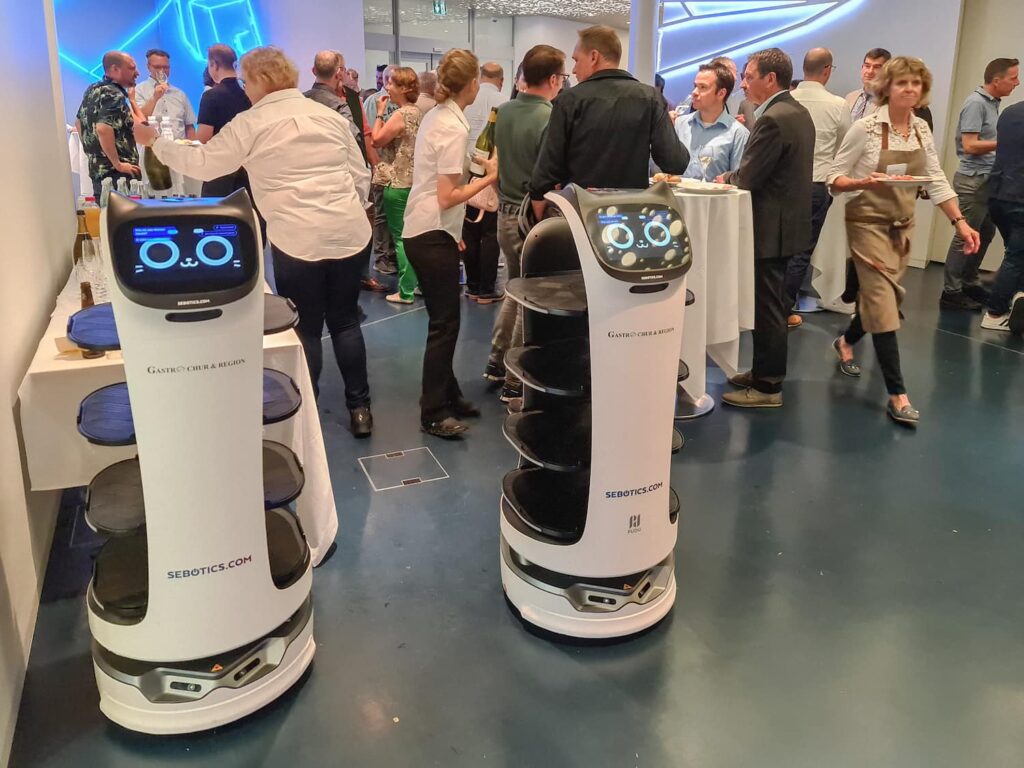 There are many possible uses for service robots at events and occasions. For example, they can be used to greet guests and show them the way. They can also help entertain guests. In addition, you can distribute drinks and snacks to guests, provide information.
Service robots at events and occasions therefore offer a number of advantages and are the perfect complement for events of all kinds. They can make the work of the organizers easier and help ensure that the event runs smoothly. In addition, they can also help improve the guest experience.